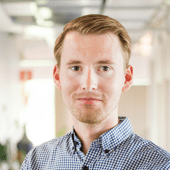 Karl-Oskar Gunnarsson
Customer Responsible Software Engineer – Tech
Karl-Oskar has a background from the Mechanical Engineering program at Chalmers University of Technology. He has also received a BSc in Business Administration from the School of Business Economics and Law.
At Ongoing Warehouse he works as a customer responsible software engineer where he has daily contact with his customers and helps them improve their warehouse operations.
If he is not at the desk, you have the best chance of finding him at the office ping pong table.